One of the Objectives of the OTU Association is:
To promote youth leadership and development training in order to provide a life enhancing opportunity to young Australians.
Over many years our efforts and support have been primarily focused on the Lord & Lady Somers Camps in Victoria. The following report details the activities for 2010.
In addition The Association has this year made donations to an Anglicare Youth Development Program based in Healesville, Victoria., and to a Queensland based youth mentoring program.
Lord and Lady Somers Camps – 2012
Altogether the OTU Association sponsored twenty nine young people to this year's Lord and Lady Somers Camps. These are held annually at Somers, on Westernport Bay in Victoria. For 2012 there were fifteen boys and sixteen girls. Five attendees were nominated by NSW Chapter and the rest came from Victoria, with eight of these co-sponsored with Healesville Rotary Club.
OTU Association members are always welcome to visit the camp, watch the activities then join in with the "Groupers" (participants), "Slushies" (instigators of discipline) and staff for lunch.
If it's possible to draw a parallel with Scheyville, the Groupers are the Junior Class and the Slushies the Senior Class. The "Slush", however can (and do), wreak their havoc around the clock, interrupting sleep at any time of night should it be deemed necessary – or even not necessary should that be the case! I can't recall that being so with our experience. They do, as per the script, moderate their tone to the point where they become quite friendly by the end of the week!
Team building and stretching the Groupers' endurance boundaries forms a crucial part of the programme. Each camp comprises five separate teams of twenty young people and the camaraderie built up in these is something to behold! There develops an enormous esprit de corps in each with Groupers doing all they can to help their colleagues achieve their very best. It is a great way for them to gain confidence through expanding their understanding of their physical and mental limitations and developing leadership skills.
Guest speakers address the Groupers at many of the meal sessions. Included in these over the years have been Chief Commissioners of Police, notable sports personalities, senior politicians and other prominent personalities. Younger people with lifetime experiences highly relevant to the Groupers' stage in life are also included.
OTU's association goes back to the mid 'eighties. We have focused our efforts on sponsoring young people from the less privileged schools and areas. For so many it has been a life-changing experience – giving them an extra confidence, so vital at that stage of life.
We take great heart from the "thank you" letters we receive from grateful people we have sponsored. As well, a number come back in years after to assist in running the camps.
Sponsoring young people to attend the Lord and Lady Somers Camps is one way The OTU Association can assist in the development of Australia's youth. I'm certain that, state by state there are many other opportunities. We'd be keen indeed to hear of any. After all, Youth Development is one of our core objectives – and funding is available.
Frank Miller.
National Chairman.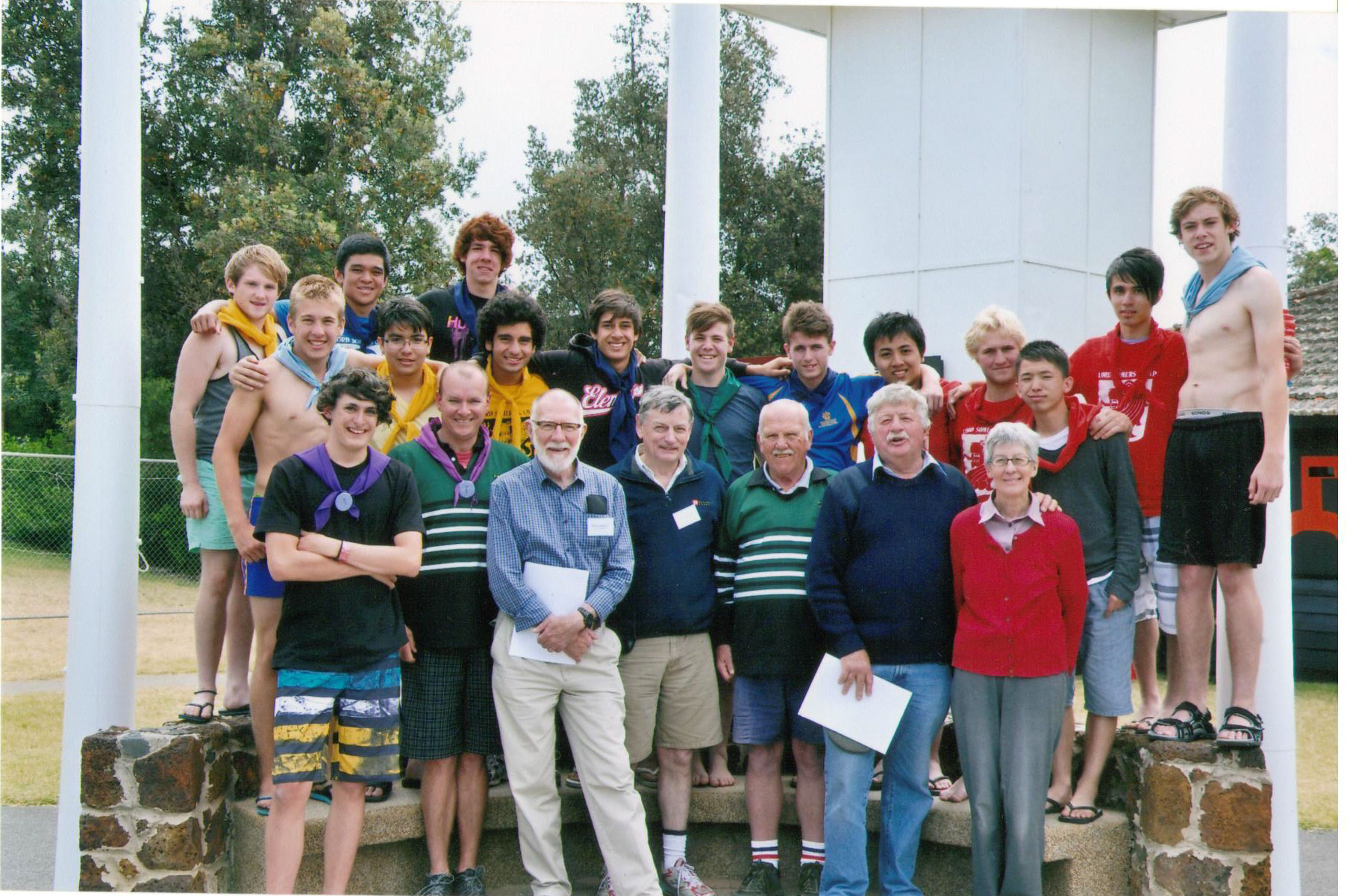 Brian Scantlebury, Peter Whitelaw, Paul Ford and Rob Youl with attendees 2112