(John Murray, 3/72)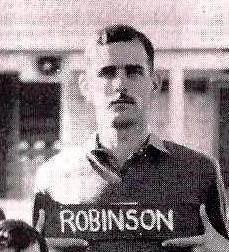 John Charles Robinson or "Robbo" as he preferred to be called entered this life on the 10th of July 1951. Robbo's father was an RAAF pilot who flew Lancaster
bombers during the Second World War. He met Robbo's mum in Newcastle upon Tyne while he was on active service in the UK and they subsequently married there. He returned to Australia while still on active duty with the RAAF and she subsequently came out to Australia aboard ship with hundreds of other war brides.
Robbo was an above average student at school and received six A's in his School Certificate exams. He left school at that point with the full encouragement of his father, which was perhaps somewhat surprising considering he himself was a qualified accountant. In later life John often wondered how life might have been different had he gone on to complete his high schooling and then gone to University to study journalism, a career in which I'm sure he would have excelled.
He was a handy footballer who had a lifelong love affair with Rugby Union. He played Rugby while at Scheyville and also afterwards throughout his time in the military and beyond. Robbo, like all of us from time to time while at Scheyville, questioned his worth and his ability to complete the course. Then he pulled off a classical infantry attack when it was his turn to be Platoon Commander on our final "Bonanza" exercise. He finished up 20th out of 39 graduates in class 3/72 and was very happy with that result.
Likewise, on the Young Officers Course at the School of Artillery in 1973, he again finished ahead of a number of his classmates reinforcing for himself that he was fit to be an officer and to lead men.After the YO's course, Robbo was posted to 8th Medium Regiment in Holsworthy. He proved to be a  more than competent section commander in his Battery and was respected by his Gunners, his NCO's and his fellow officers. So much so that his CO invited him to sign on and stay in the Army after his National Service was completed. As much as he loved his time in the Army, especially as an Artillery Officer, Robbo felt that his immediate future lay in advertising, the industry in which he was employed when he was called up.
Robbo returned to advertising in Sydney after his discharge in December 1973. He loved the work and he was very good at it, working for such well-known companies as Young and Rubicam and Grey Advertising. His favourite campaigns during that time were for iconic brands Lindeman's and Sanitarium.
After a time living on the Central Coast of NSW he moved with his young family to Brisbane. There Robbo worked for Mojo Advertising on campaigns for Marina Mirage, Dreamworld and XXXX amongst others. He received many awards for his work including 2 Silver and 1 Gold Clio Award, which are the advertising industry's most recognisable international awards.
Life wasn't only about his work. Robbo loved being out in or on the water. He became a fully qualified PADI Scuba Diving instructor in 1998 and logged up more than 800 dives all over Australia but mainly on the Great Barrier Reef, North Stradbroke Island and Moreton Bay.
Eventually Robbo and Bev left Brisbane behind and went in search of their own little piece of paradise. They found the little cottage of their dreams in Bilambil Heights, in the hinterland above Tweed Heads overlooking the Tweed River. Robbo's favourite place to be was Rainbow Bay, or Snapper Rocks as the locals like to call it, surfing on his beloved Mal. Alternately, you were most likely to find him kayaking on the Tweed Broadwater in front of his home.
Robbo also loved to potter in his garden and was proud of the tool collection he inherited from his dad. He used those tools to very good effect in a number of handyman projects he undertook around the house. Robbo actually found part time employment as a handyman for a while at a couple of different TAFE Colleges not far from his home and was in his element being a Mr. Fix-it while getting paid for it at the same time.
About 2 years ago Robbo contracted a very rare form of cancer – Osteo Sarcoma – that proved very difficult to treat and to beat. He faced the battle with typical stoicism and humour. In one email to me he mused that his later visits with his Oncologist must have been somewhat similar to attending a Commandant's interview at Scheyville.
John and Bev did not sit idly by awaiting his fate. With typical gusto they took the opportunity to travel as extensively as Robbo's treatments would allow and these trips enabled John to cross a number of long desired destinations off his bucket list. He also indulged his love of writing, entering many short stories to magazines and newspapers, some of which were published. He joined writing groups and enjoyed writing stories about his adventures overseas with Bev.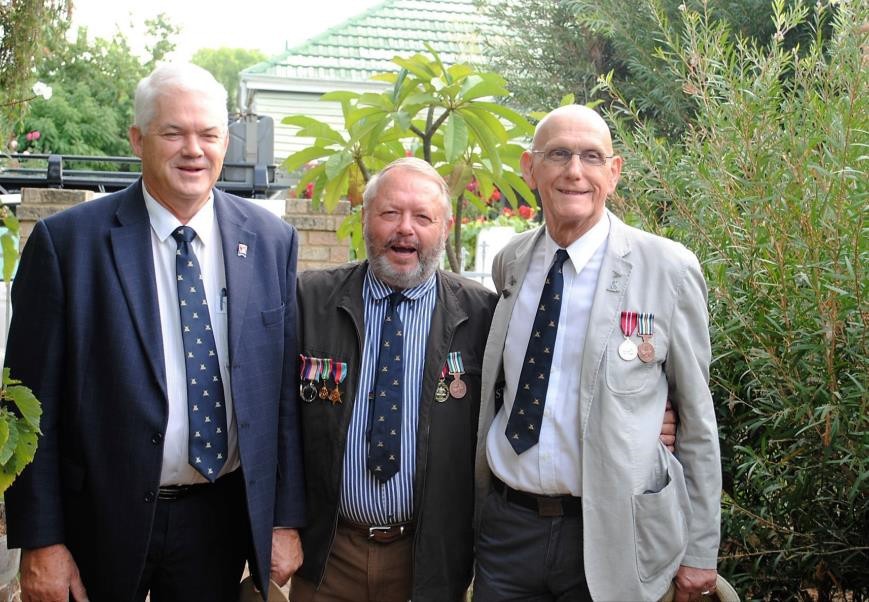 Left: 3/72 Classmates Chris Richardson from WA, Kim Turner from Brisbane and John Robinson.
Unfortunately Robbo lost his final battle with cancer on November 30th 2015. A celebration of his life was conducted at Centenary Gardens Sumner in Brisbane on Monday December 7th, with a number of his 3/72 Scheyville colleagues in attendance. Robbo is survived by Bev his partner in life for over 49 years, his adoring daughters Brooke and Katie, and his 5 grandchildren who were all the apples of his eye.
Robbo never talked about his achievements in life, although he was very proud of them. He succeeded at Scheyville and then excelled in the cut-throat world of advertising for over 37 years. He taught hundreds of people to dive and to enjoy the wonders of the ocean. He could be a complex character at times, continually striving for perfection and not happy to accept any less.
He was a fantastic husband and provider, a practical man endowed with above average intelligence and common sense, a staunch and loyal friend and a man it was my privilege to have known and to have called my mate for over 43 years. He will be sadly missed by all who knew him. A good man – gone too soon. Vale Robbo.