David Richard Mee   passed away in a British hospital on 8 June 2013.
     David Mee (3/66) by Maggie Mee with Neil Leckie (3/68)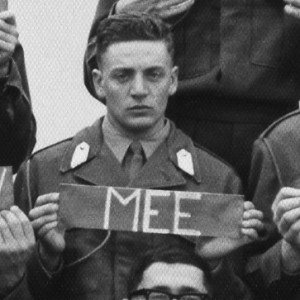 David Richard Mee was born in Tasmania on 5 April 1945. A deferment saw David commence his NS on 13 July 1966 at 2 RTB Puckapunyal as 6708589 Recruit Mee and at OTU Scheyville on   29 Jul 1966 as Cadet Mee.
On 23 December 1966 Graduate Number 293 2Lt Mee was posted to 32 Small Ships Squadron, Royal Australian Engineers (Transportation) or RAE (Tn).
David   served the rest of his National Service with 32 Small Ships. 
During 1967 and 1968 David spent time in Vietnam, although his name does not appear on the Vietnam Veterans Roll.
This is, according to the 32 Small Ships Association, not unusual.
The ships were in and out of Vietnamese waters regularly and Roll Keeping on the ships did not always indicate whether  members were considered in Vietnam or not.
After National Service David decided to become a Chef and studied in Nancy in France and in Italy. He travelled the world working cooking up a storm for diners – his speciality was French &   Italian.
David married and had two daughters Gemma & Katrina. There would be four English born Grandchildren and later a Melbourne born Great Grand-daughter.
In 1987 David married Maggie in Scotland and at the Glasgow Garden Festival in 1988, he was assigned to take care of Prince Charles and Princess Diana. In 1989 Dave and Maggie returned to Tasmania staying in Sheffield, near Devonport, with his family before eventually building their first home in Woodbridge in Tassie. David worked at the local pub and enabled them to win the best restaurant in Australia.
From Tassie, David and Maggie moved to Melbourne and David worked in a number of restaurants and also in Aged Care Homes sharing his love of cooking.
In 2004 Maggie was appointed to be the Head of Retail Banking for ANZ PNG. Dave said "go for it"! He then 'consulted' for the Holiday Inn in PNG and taught at the local TAFE, his students calling him 'Mr Wash Wash' as he was always making then wash their hands before, during & after cooking!
He taught a lad who was deaf and dumb how to become a butcher – so inspiring!!!
David was proud to be both an Australian and a Scheyvillian and was still competitive even in later life playing Lawn Bowls including for PNG. In 2008, David received his National Service Medal from Peter Costello at his constituency in Melbourne. David and Maggie travelled the world together with their last overseas adventure including a visit to Malta.
Maggie said: 'He was passionate, kind, warm-hearted and believed that you could achieve anything!!!! His Army experience left an indelible mark and also from an emotional perspective in what he experienced in Vietnam, however, he never let that stop his love of life and even in the last days of his life "he was so brave". He is and always will be for me irreplaceable!!!!!'